Share this URL: http://safecycle2018.peatix.com
Event is FINISHED
Safe Cycle Programme for kids aged 6-12
Safe Cycle Programme is an educational clinic aimed at educating children between the ages of 6-12 years old on the safety aspects of cycling safely.
Our team of experienced Cycling Educators will engage your little ones in an interactive session designed to improve their skills and understanding of the challenges of cycling; the ultimate aim, to keep them safe!
Participants will be put through a series of skill-based courses and short briefs with videos, ending with a quiz where participants walked away with prizes such as Limited Edition Tees and Bicycle Charms. Each child will also receive a certificate of participation, certifying them as a Super Safe Junior Cyclist!
What your children will learn during the course?

Safety Briefing

A short video clip will be screened at the start of the clinic, where participants will learn the do's and don'ts of cycling. It will be followed up with a briefing on how to do a safety check on a bicycle before riding.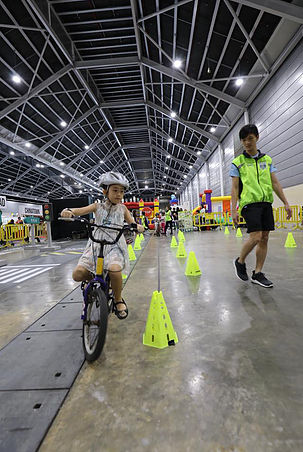 Two courses will be introduced where one learns to ride with precision and skill.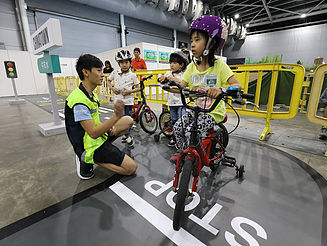 Children are taught to observe basic road signs and the inherent challenges on public roads.
Details of our programme:
Venue: The Kidz Academy 2018, Singapore Expo Hall 6
Date: 29 June - 1 July 2018

Duration: approx. 45 minutes
Upon registration, please pick your preferred day and time slot.
On the day of the event,parents are to bring their kids to our registration booth at least 10 minutes before the programme starts so that you can collect your kids' programme badge upon showing your e-ticket from Peatix at our registration booth.

Note: All kids are to wear shoes during the programme for safety

Get ready for your kids to become our next #SuperCyclist!
Past Safe Cycle Programmes:
Read more
Jun 29
-
Jul 1, 2018
[ Fri ] - [ Sun ]
11:00 AM
-
6:00 PM
SGT
Add to Calendar
Venue

Singapore Expo Hall 6
Tickets

29 June: 11.00am-12.00pm

SOLD OUT

$15.00

29 June: 12.00pm-1.00pm

SOLD OUT

$15.00

29 June: 1.00pm-2.00pm

SOLD OUT

$15.00

29 June: 2.00pm-3.00pm

SOLD OUT

$15.00

29 June: 3.00pm-4.00pm

SOLD OUT

$15.00

29 June: 4.00am-5.00pm

SOLD OUT

$15.00

29 June: 5.00pm-6.00pm

SOLD OUT

$15.00

29 June: 6.00pm-7.00pm

SOLD OUT

$15.00

30 June: 11.00am-12.00pm

SOLD OUT

$15.00

30 June: 12.00pm-1.00pm

SOLD OUT

$15.00

30 June: 1.00pm-2.00pm

SOLD OUT

$15.00

30 June: 2.00pm-3.00pm

SOLD OUT

$15.00

30 June: 3.00pm-4.00pm

SOLD OUT

$15.00

30 June: 4.00pm-5.00pm

SOLD OUT

$15.00

30 June: 5.00pm-6.00pm

SOLD OUT

$15.00

30 June: 6.00pm-7.00pm

SOLD OUT

$15.00

1 July: 11.00am-12.00pm

SOLD OUT

$15.00

1 July: 12.00pm-1.00pm

SOLD OUT

$15.00

1 July: 1.00pm-2.00pm

SOLD OUT

$15.00

1 July: 2.00pm-3.00pm

SOLD OUT

$15.00

1 July: 3.00pm-4.00pm

SOLD OUT

$15.00

1 July: 4.00pm-5.00pm

SOLD OUT

$15.00

1 July: 5.00pm-6.00pm

SOLD OUT

$15.00
Venue Address

Singapore Expo Hall 6

Singapore
Organizer